Ricky Martin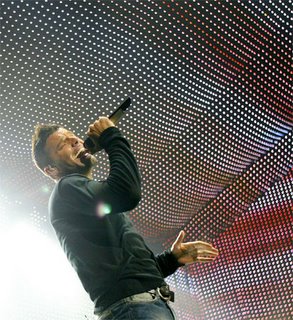 Photos by D. Ross Cameron for
InsideBayArea.com
Well, I got tix to see Ricky Martin at the paramount theater in Oakland. Front row balcony. A week before the show the guy I'm dating told me he didn't want to go. Ok fine. But the way he said it pissed me off: "I'll go with you but i can tell you I have no interest and would be completely bored." It just seemed so rude and at that point it wasn't about the concert, it was about spending time with me. arggghhh I could go on, but I won't.
I ended up taking my friend Sam, who reminded me it was his birthday. I looked at the calendar and fell out my chair. Number One, because I forgot. And Number Two, because the end of the first month of 2006 came so fast, and I seem to be still in Dec 2005 pre-Xmas.
Sam and I grabbed Thai food at Siam Bay, then headed to the Paramount. Walking into the lobby, the air was so thick n hazy n humid: a combination of latin girl twat juice n perfume n gay boy spunk n cologne. (Crude, but it is what I thought.) I'm guessing Ricky is like Aretha and demands that air conditioning be off for his voice.
The crowd was mostly female with tag-along bfs (55%) and gay guys (45%).
The show itself was fun, a step up from Vegas revue, which is what I expected. He's a charismatic performer with the ability to look in a crowd and make you think he is looking n waving solely at you.
And damnnnnn wut an azz. Each pelvic thrust or hip shake had the crowd screaming like white girls at a beatles concert.